Blaze breaks out in Reddish row of terraced houses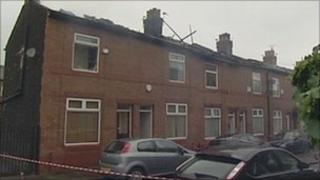 Sixty people have been moved from their homes in Stockport after a fire broke out in a row of terraced houses.
The fire service were called to the blaze on Lyndale Avenue in Reddish at about 1130 BST on Saturday.
It is believed the fire started in one of the properties and spread through the roof to nine neighbouring houses.
Six of the 10 houses affected have been severely damaged and one man was taken to hospital to be treated for smoke inhalation.
People living in the terraces and some houses across the street were moved to safety and Lyndale Avenue was sealed off while crews were at the scene.
The cause of the fire is not yet known.