Fire in row of Reddish terraced houses investigated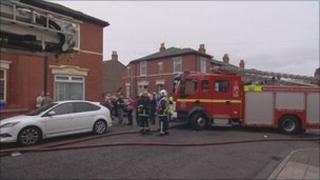 Fire crews are investigating the cause of a blaze which started at a terraced house in Stockport and spread to six neighbouring properties.
The fire started in a mid-terraced house on Lyndale Avenue, Reddish, just before 1130 BST on Saturday.
It spread through the roof space and left a total of seven houses severely damaged by heat, water and smoke.
One man escaped the blaze before crews arrived and was taken to hospital to be treated for smoke inhalation.
About 60 people had to be moved from their houses - many from the row of 10 terraces and some from houses on the opposite side of the street.
Structures unsafe
It is not yet known when residents will be allowed to return to their homes.
Firefighters managed to stop the fire in the roof area and prevented it from spreading to all 10 properties.
David Wright returned from his honeymoon to be told he could not get into his house because of the fire.
"We got a call that the house was on fire as well as several others, and we've got back and there's not a lot left. But they have retrieved my dad's war medals," he said.
Tony Lander, from Manchester Fire and Rescue Service, said: "There will be roof timbers and ridge boards all have been severely affected which could make the structures unsafe, so we will be requesting that the dangerous building inspectors check the properties out."
The cause of the fire is currently under investigation by fire scene investigators.