Homes evacuated in Oldham terrace fire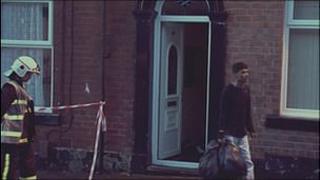 About 60 people were told to evacuate their homes in Oldham when a fire broke out in a derelict terraced house.
The blaze, which spread through the roof to four adjacent houses, began just after midnight on Park Street, Coppice.
Two houses were completely destroyed and a third was extensively damaged, the fire service said.
Gas cylinders were discovered at the scene which are being cooled down to avoid a risk of explosion.
'Allowed home'
A fire service spokesman said: "The officer in charge was informed that there may be someone sleeping rough in the unoccupied property, so firefighters wearing breathing apparatus worked extremely hard to search the property and stop the fire from spreading further."
He said that crews have not yet found any evidence that someone was inside the derelict burnt-out house.
"The fire spread very quickly through the roof spaces of the terraced properties," he said.
"Two of the homes have been destroyed and the third has a very unstable roof, which makes it difficult for crews to get inside."
An investigation into the cause is under way.