Some Greater Manchester Police inquiry desks to close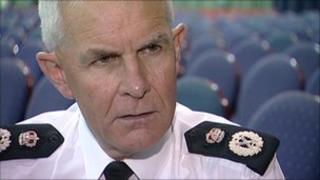 Thirty four public inquiry desks at police stations across Greater Manchester are set to close, as part of plans to save £134m.
Greater Manchester Police said a review of the counters found many were rarely used and uneconomic to keep open.
It said the way people contacted police was changing and it had launched a consultation with the public about their preferred methods.
The force is launching a 101 number, for non-emergency calls, in November.
It plans to keep 21 inquiry counters open during the consultation, a spokeswoman said.
Chief Constable Peter Fahy said the force had invested in neighbourhood policing, police community support officers, customer service desks and appointments for non-emergency issues.
GMP has also increased the information available online and on social networks, he said.
"But we have retained inquiry counters that in many places have become expensive to run and may be used by only a small number of people during the day," he added.
'Make savings now'
"It is clear we need to understand how people want to contact us and ensure that we have developed access suitable for the future.
"However, we need to make savings now and cannot continue to run uneconomic inquiry counters."
Mr Fahy said the force would be looking at different locations and expanding local meetings and surgeries to encourage people to speak to officers.
Councillor Paul Murphy, chair of the Greater Manchester Police Authority, said: "Ensuring GMP provides a quality service to the public of Greater Manchester is of paramount importance to Greater Manchester Police Authority.
"This has to be achieved in the context of the current financial situation which means modernising the way the force works and making best use of the resources we have available.
"I want to emphasise that today is the start of meaningful consultation with the public, partners and our staff about the proposed changes and the future vision of delivering policing in Greater Manchester."