Fire crews tackle Wilmslow Garden Centre blaze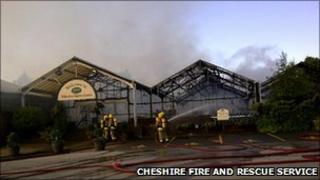 More than 70 firefighters have been tackling a blaze at a garden centre in Cheshire.
Crews were called to Wilmslow Garden Centre in Manchester Road, Wilmslow, at about 0530 BST. The fire had spread to four large greenhouses.
Firefighters removed fireworks and fertilizers from a store, to prevent explosions, and cooled gas cylinders on the site.
Manchester Road was closed to allow the crews to tackle the fire.
The cause of the blaze is under investigation.
Area manager Phil Hales, who was at the scene, said: "From the initial call-out, firefighters were aware of the scale of the fire and called upon resources to fight the fire and contain it.
"Due to their quick actions they were able to stop the fire spreading to adjacent premises."
Bob Hewitt, chief executive of Klondyke Garden Centres, said: "Although the extent of the damage is not yet known, we are pleased this did not happen during trading hours and that no-one has been hurt."