Cold callers ban zone in Woolton, Liverpool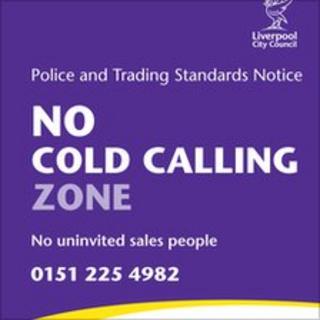 Cold callers have been banned from knocking on doors in an area of Liverpool in a city council pilot scheme to reduce crime.
The council has set up its first no cold calling zone in five roads in Woolton after residents complained about "bring pestered".
People who flout the ban will face prosecution on grounds of aggression, the council said.
The scheme is hoped to deter burglars and rogue traders.
The zones which have been marked by lamppost notices and door stickers will be rolled out across the city if successful.
'Preyed upon'
Councillor Ann O'Byrne, cabinet member for community safety at Liverpool City Council, said: "This is an area which has a high proportion of elderly people, a significant number of whom have been victims of rogue traders.
"The zone, which is supported by the residents, will be a way of preventing more vulnerable people being preyed upon.
"Of course, many of the cold callers are from legitimate businesses but even then householders feel they are being pressurised into buying goods or services they don't want.
"And the sheer volume of callers mean that residents feel they are being constantly pestered."
The council said the zone is not designed to prevent legitimate callers from utility firms or people distributing leaflets or catalogues.
Merseyside Police support the zone and have been involved in a joint meeting with the city council and Riverside Housing to explain the scheme to residents.
In a survey of the zone's householders, about a third said they received calls once a week and nearly 10% said they had been victims of either rogue traders or distraction burglary.