Critics call Bjork's Manchester debut 'strange' and 'melodic'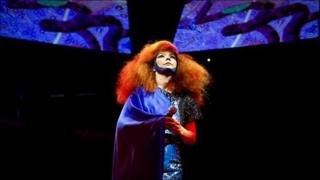 Critics have described Bjork's Biophilia, which premiered on the opening night of Manchester International Festival, as 'strange' and 'melodic'.
Biophilia is a concept album about nature with songs inspired by such themes as DNA, tectonic plates and crystals.
That concept includes narratives by Sir David Attenborough and the invention of not only new instruments - including a gravitational harp and a musical tesla coil - but also a new system of musical notation devised by the artist herself.
The opening night at Campfield Market Hall was filled with fans and critics - here are some of their comments.
The critics:
Ian Youngs - BBC News
"With voluminous ginger hair and a purple robe, Bjork gave the first full performance of songs from her forthcoming album Biophilia."
Dave Simpson - The Guardian
"At its strangest - when weird images of molecules were flying over giant ear trumpets, and you felt a weird empathy with Virus - 'my sweet adversary' - the show felt like a crystallisation of the bizarre natural world we all inhabit. One or two old classics - Hidden Place and a lovely All Is Full Of Love - brought the house down. A quibble would be the absence of the really joyous pop moments from early in her career - a Venus As A Boy or Violently Happy."
Sarah Walters - Manchester Evening News
"One Day, played a capella with a drummer on a melodic percussion instrument called the hang, is an elegant final showcase for Bjork's distinctive voice, but there's nothing that quite sums up the spirit of the show - and of MIF itself - quite like Declare Independence. The bar is set."
On Twitter:
Stuart Maconie - BBC 6 Music @stuartmaconie
"First night of Bjork's show; dancing all female choir in capes, volcanos, pendulums, David Attenborough, insane drum and bass. Totally Bjork."
Huw Stephens - BBC Radio 1 @huwstephens
"Bjork was phenomenal tonight in Manchester. Biophilia is amazing; everyone sees a different performance. Big choir, and David Attenborough."
Guy Garvey - Elbow @guygarvey
"Bjork at Manchester international festival was heart stopping. She's amazing and the choir was incredible. Me and the badger still thrilling."
Matthew Britton - The Pigeon Post @thepigeonpost
"Bjork was sublime."
Chris Long - BBC Manchester @chrisjameslong
"I love Bjork, I really do, but even by her standards, this is massively self-indulgent... Taken as a piece of art, it's alright."
The blogs:
David Rea - Silent Radio
"Whatever your preference, there's no denying that this show is nothing short of spectacular. Each incarnation of Bjork was present... When the crowd spontaneously erupts into a huge, second wave of un-prompted applause between songs, you know you're witnessing something special."
On Facebook:
Charlie Greenwood
"Spine tinglingly amazing, past my expectation, you lot are in for quite a treat :) I am working on 7th too and I can't wait to see it again."
Rachel Mccarthy
"One of the most amazing nights of my life! worth every penny and I would travel from twice as far to experience something as beautiful and unique as this again!"
Kate Mcleish
"I was totally blown away. Feel very lucky to have witnessed something so special!"