Facebook campaign over clothes trapped in Manchester laundry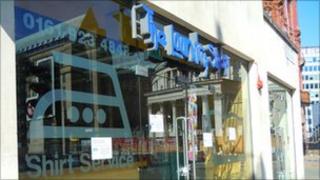 Customers of a Manchester dry cleaners have begun a Facebook campaign to get their clothes back after the business closed.
An Armani coat and a best man's suit are among items trapped in the Laundry Shop since it locked its doors in April.
A Facebook group called I Want My Clothes Back from The (closed) Laundry Shop has more than 70 members.
The shop closed in a dispute between the owner and the landlord.
One customer, Emma, who did not want her full name to be used, estimated she has garments worth £2,000 in the shop on Oxford Street, including an Armani coat.
Sentimental value
"It's very frustrating... I can see them in the window."
Scott Dawson, who set up the Facebook group, said the suit he put in to be cleaned has sentimental value.
"It was given to me by my friend of 35 years when I was best man at his wedding," he said.
"Of course I want it back," he said. "There is no way I can replace it."
He has written to the owner and encouraged others to do the same.
Walter Stevenson, owner of The Laundry Shop, said the business had suffered because of long-running roadworks and he had been unable to keep up rent payments.
He said he was twice visited by bailiffs and, on the second occasion, handed in the key to the reception at Peter House, Oxford Street where the business is based.
BNP Paribas, the agents acting for the property's landlord, were not available for interview but said it had written to customers.
The letter states it cannot legally enter the premises because The Laundry Shop is still the tenant.