Lancashire County Cricket Club given go-ahead by judges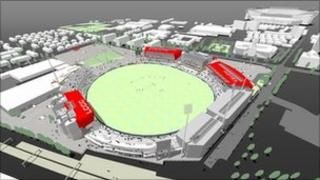 Lancashire County Cricket Club (LCCC) can go ahead with a multi-million pound regeneration of its ground, three Court of Appeal judges have ruled.
Property company Derwent Holdings had argued that Trafford council's approval of the redevelopment of Old Trafford stadium last year was unfair.
The judges who sat in London will give their reasons for the decision at a later date.
LCCC said the revamp was needed to keep international cricket at the ground.
Lancashire's chief executive, Jim Cumbes said: "This is one of the biggest days in the club's history."
'Wholly confused'
"If we don't redevelop then 154 years of history would have been in danger of disappearing."
Some initial work had started on the ground but the main re-building will begin in September, with the work due to finish in 2013.
Derwent had argued that councillors were given "wholly confused advice" about the plan - which includes proposals for the creation of a Tesco superstore near the ground - and were "not properly advised" on policy before granting the cricket club planning permission.
The property company, which is owned by Isle of Man-based millionaire Albert Gubay, had previously had an application for a Sainsbury's store on nearby White City Retail Park rejected by planners.
Derwent's appeal was the latest legal battle over the redevelopment of Old Trafford.
School fields
In December 2010, Derwent sought a judicial review of the council's decision in the High Court but that attempt to block the plan was dismissed by a judge in March 2011.
The firm was appealing against that High Court decision.
Judges heard that part of the proposed development would see a former school playing field built on.
But Lancashire said the land had not been used as a playing field for a decade and said expansion would produce a "greater community benefit" because it would enable the club to provide "expanded sporting facilities... through local education".
Nobody at Derwent Holdings was available for comment.