Bands test True Faith at Manchester International Festival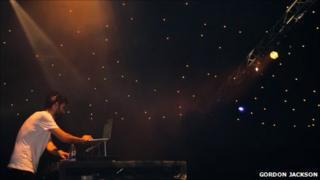 Across the 18 days of Manchester International Festival, high-concept art, culture and theatre thrive throughout the city.
True Faith keeps alive what Manchester is famous for: its music and diverse range of bands.
The Madchester raving of old has been replaced with casual toe-tapping and awkward glances, but the energy of the music remains.
Music lovers filled the Festival Village in Albert Square as the doors opened to the first live band night of the series of showcases celebrating established and emerging local talent.
Over the course of the festival, the Pavilion Theatre is home to a selection of original material and one-off covers from both bands and special guests.
Emerging talent
Former Hacienda DJ Dave Haslam, who is hosting the events, said: "You end up with some of the most interesting people from our music history, with nine bands that will be sound tracking the future of Manchester."
Opening night, curated by Manchester-based Everything Everything, was headlined by emerging talent Egyptian Hip Hop, described by one gig-goer as "Talking Heads meets Sisters of Mercy".
In support were Withington-based electro rock trio Plank! and Manchester-born XXXY, with a debut electro performance of his unique bass heavy, garage influenced tracks.
"We tried to pick a line-up that we thought would be interesting, but also complimentary," said Jeremy Pritchard, co-curator and member of Everything Everything.
Particular emphasis has been placed on the unique, organisers say, with every contributor being encouraged to do something different - giving both the band and the audience a truly "original festival experience."
Instrumental trio Plank! added a saxophonist to their line up for the show, which the band jokingly said provided a "jazz-fusion" influence to their repertoire.
XXXY performed electronically and Egyptian Hip Hop performed a set of completely new material, which both confused and inspired in equal measure, according to the night's co-curator.
Jonathan Higgs, lead singer of Everything Everything, said: "XXXY came on and got everyone dancing, before Egyptian Hip Hop came on and weirded everyone out."
One gig-goer added: "I thought Egyptian Hip Hop's new material was great and it was good to see XXXY's live electronic debut."
True Faith runs at the Festival Pavilion until Wednesday 13 July 2011.