Bolton man denies breaching NHS staff abuse Asbo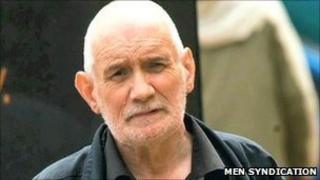 A 64-year-old man, given an anti social behaviour order for abusing health service workers breached it five times in the past year, a court has heard.
The jury was told Shaun Gillhooley, who denies the breach, was issued with his Asbo in September 2008.
The five breaches of the order are alleged to have taken place between March and September 2010 at both a health centre and a hospital.
The case at Bolton Crown Court continues on Thursday.
The court was told that he had a history of abusive behaviour to health service staff.
The September 2008 Asbo barred Mr Gillhooley from NHS premises without an appointment or from using aggressive and abusive language to health service staff.
But in March 2010 he called someone on a GP's out-of-hours phoneline an "idiot" - a word he is banned from using, the court was told.
In July he was said to be aggressive to a hospital receptionist, while the following month he was accused of being offensive to a security guard at a health centre.
The court heard that in September he used another banned word when he said "bloody" to a health service professional and the next month he refused to leave a health centre when asked to do so.