Victoria Wood's That Day We Sang revels in nostalgia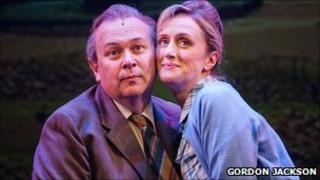 "My brother was serving on a warship in Mombassa and even there he was told he must buy Nymphs and Shepherds by the Manchester School Children's Choir.
"Of course, he already had it."
Nancy Parker-Brown, 96 and a former pupil at the long-gone Upper Jackson Street Central School in Moss Side, was one of 250 Manchester children chosen to perform Purcell's Nymphs and Shepherds with the Halle Orchestra at the Free Trade Hall in 1929.
The record made from the performance was an extraordinary global success and became the subject of a 1970s documentary, which planted the seed for Victoria Wood's That Day We Sang, part of Manchester International Festival.
Mrs Parker-Brown, who was in the stalls for the musical play's first night at the Manchester Opera House, said that the "show was very enjoyable, the children here were excellent and she merged the stories very well."
For her, though, the show was a nostalgic look into her own life.
"Hearing it always brings it all back," said the former planner at Manchester City Council, who now lives in Northenden.
"My brothers knew only too well that I was one of the nymphs and I think they sometimes wish they could have been allowed to forget it - it seemed everyone had heard of us."
"I was one of about four from our school who our music teacher just pointed to and that meant we were in the choir.
"There was no audition."
A similar process was probably used to pick some of the cast of That Day We Sang, which includes children from Bowker Vale Primary School, Crab Lane Primary School, Pike Fold Primary School and The Co-operative Academy of Manchester alongside seasoned theatre performers.
Period eateries
That Day We Sang tells the tale of Tubby and Enid, two of the original choir members who meet up again in 1969 during the making of the documentary.
Neither has sung since, but hearing Nymphs and Shepherds reminds them of the joyfulness of that day and gives them the courage to fall in love.
The action is interspersed with Bury-born Wood's own songs and a slight obsession with period eateries.
The now lost Berni Inns are celebrated in all their steak and chips glory in a song proclaiming that Black Forest Gateau is "just chocolate cake in drag".
There is also a Wimpy and, to the delight of a generation of Mancunians, an appearance for The Golden Egg cafe of Piccadilly Plaza, which brought the excitement of waffles to Manchester with a bus station backdrop.
But it wasn't all eating in, Tubby and Enid make it to Piccadilly Gardens where they discuss yoghurt-sharing and a huge projection of the Victorian gardens reminds many again of a time before the current fountains piazza.
As Enid says: "It's not exactly Roman Holiday," but it is a Mancunian pleasure.
That Day We Sang is at the Manchester Opera House until Sunday 17 July 2011.