Stockport's Boy Wonder comes home for Batman Live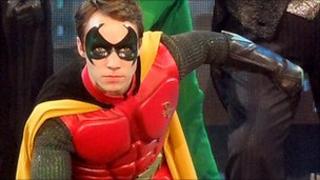 "He's not just Robin, he's Dick Grayson."
For Kamran Darabi-Ford, playing Batman's boy wonder Robin is not as straightforward as simply slipping into a costume and running around.
It is about finding the "truth" of the character.
The actor is playing the hero in Batman Live, a stage show which features many of the comic book star's most famous counterfoils - the likes of The Joker, The Penguin, The Riddler and Catwoman - alongside the dynamic duo.
Mr Darabi-Ford says that the show, which debuts at Manchester's MEN Arena on Tuesday 19 July ahead of a world tour, will be doubly special for him as it is also a homecoming.
He "left Stockport when I was 19 to attend drama school".
"I still have family and a lot of friends there, who will all be coming to see me at the Arena - I can't wait."
The actor says he is nervous, but that his butterflies are partly because of the character he is playing.
"The essential thing about Robin is that he's not just Robin, he's Dick Grayson," he says.
"He's not just a sidekick. He's a young boy who is troubled enough to make the leap from average Joe to superhero.
"What we're trying to do is tell a story - though it's a very big show, at the heart of it is essentially a play.
"We want to keep it truthful and find that nice subtleness of real-life and truthful characters, whilst still making it big enough [for the Arena]. That said, I might close my eyes and hope for the best."
Despite such things, for all the large visuals or the intricate acting, it is the costumes that most people will notice first about Batman Live - and in Mr Darabi-Ford's case, that means donning Robin's famous green tights.
"I wore hot pants when I played Puck, but this is the first time I've been in tights," he says.
Batman Live is at the MEN Arena in Manchester from Tuesday 19 July to Sunday 24 July.