Manchester City Etihad Stadium deal jobs hopes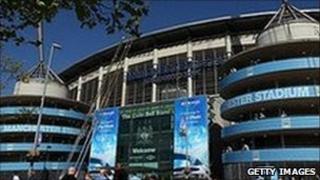 The deal to rename Manchester City's ground as the Etihad Stadium should result in jobs growth, according to the city council leader.
The club signed a 10-year deal with the Abu Dhabi-based airline rumoured to be worth several hundred million pounds.
The city council is to receive £20m over five years after handing over the naming rights to Manchester City.
The City of Manchester Stadium was built by a council-led partnership for the 2002 Commonwealth Games.
Manchester City Council leader Sir Richard Leese said: "We will be launching a consultation on a community programme which will not only look at sport facilities, but will also look at how we can improve educational access and how we can create more jobs.
"We also want to do a whole range of other things to enhance quality of life in that part of the city in a way that will benefit the city as a whole."