Jeremy Clarkson Salford criticism 'ignorant'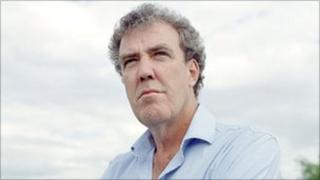 Jeremy Clarkson has said that he would rather quit his job than move to Salford if the BBC decided to make Top Gear at MediaCityUK.
Writing in the Sunday Times he described the city, which he has never visited, as "a small suburb with a Starbucks and a canal with ducks".
The BBC has moved five departments to Salford Quays from London, but has no plans to relocate the Top Gear team.
Salford's council leader said Mr Clarkson's had shown "ignorance".
'Genuine handicap'
In his motoring column Mr Clarkson wrote: "It is nowhere near any court that matters and nowhere near a single politician.
"Furthermore, if we ran the show from Salford, we'd be employing people from Salford.
"People who were born there and thought 'Yes, I like this. I see no reason to go anywhere else'.
"And in the world of television that could be a genuine handicap."
He said he would "resign in a heartbeat" if asked to work from MediaCityUK.
Salford Council's Labour leader John Merry said: "I think the comments are rather silly and borne out of ignorance as I believe he hasn't been to Salford.
"It is offensive and arrogant as we all pay our licence fees and presumably he thinks he has every right to the huge salary that Salford people contribute towards, and yet he shows them this contempt."