Music boxes make festival play a different tune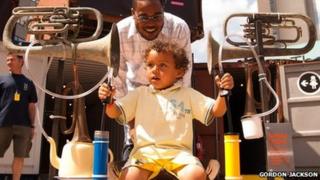 Manchester International Festival has created a musical playground constructed from metal shipping containers for children and families.
Called Music Boxes it features 72 shipping containers kitted out with equipment for children aged between six months and eight to explore music, sound and movement.
It has been introduced as part of MIF's strategy to inspire and educate the next generation in addition to providing high-concept theatre and music.
When the containers were first dropped on to the Piazza at MediaCityUK their haphazard arrangement gave the impression of a new ship yard, but visitors have discovered that appearances can be deceptive.
Curator Rachel Clare told the BBC: "We have developed an entirely new world, so you can go in and discover all sorts of musical and sound experiences."
From Baby O's Scottish Opera to Jake Rodrigues's promise to turn children into musical superheroes, organisers believe there is something for everyone within the free event's ten interactive performance boxes.
CBeebies presenters are also making appearances throughout the two weeks.
Unique experience
Although intended to reflect the shipping heritage of Salford Quays, the space allowed artists to start with a blank canvas and create a unique audio visual experience, according to Ms Clare.
"We wanted to be really inventive and do something new," she said.
"The idea of stacking containers was to develop a musical village and this means that we could start with an empty container and then the artist could really develop something site-specific and something that was really meant for just that space."
The artists were given flexibility in the design of their space. Some chose to stick with a single container, others brought together four - removing ceilings and walls to create intimate theatres.
Although she refused to pick a favourite, Ms Clare gave special mention to Aflutter by Jonny and Stephen Stockbridge.
"They have developed this entire world of paper where children can play in shredded paper with lots of newspaper flying all over the place and there is also a harpist playing so it is very very calm but it is also lots of fun as well."
Fantastic day
Parents and children attending the event said Music Boxes had exceeded their expectations.
Chris, a father from Leeds, said: "We've had a nice time and considering it is free, it is brilliant."
Victoria, a mother from West Didsbury who brought her seven-year-old twins, William and Oliver, said: "The boys have been making a music video and they have been in the light orchestra. They have had a fantastic day."
The boys described their Music Box experience as "really, really, really fun, 100% fun".
Music Boxes runs until 17 July at MediaCityUK, Salford Quays.