Ryanair announces new Manchester Airport routes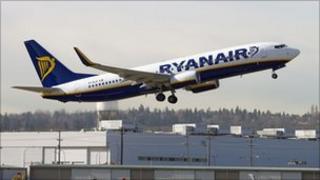 Airline Ryanair has announced a number of new routes from Manchester, nearly two years after it axed nine others blaming airport charges.
Its planes will fly to 13 destinations by October, rising to 26 by next summer, the airline has said.
Ryanair claims this will sustain about 2,000 jobs across the North West, including at Manchester Airport.
The airport said it had made some sacrifices to win back the airline.
The destinations Ryanair will fly to from Manchester by next summer are: Alicante; Barcelona (Gir); Bezier; Biarritz; Bremen; Brussels, Dublin; Faro; Frankfurt; Ibiza; Katowice; Madrid; Malaga; Memmingen; Milan; Murcia; Oslo; Palma; Paris; Reus; Rome; Rzeszow; Tallinn; Tours; Tenerife and Valencia.
Ryanair fell out with the airport in August 2009 when a deal to run an additional 28 weekly flights if the airport charges were reduced could not be reached.
At the time the airport said its charges were reasonable.
Michael O'Leary, chief executive of Ryanair, said a compromise had now been agreed.
He said: "The market has changed here and the tour operators have declined, which formed a large part of Manchester's business.
"I think Manchester has been more keen to get us back and we've learned from our mistakes last time."
Penny Coates, chief operating officer of Manchester Airport, said: "We've seen a decline in passenger numbers over the last two or three years particularly since the recession kicked in."
She said the airport had lost Ryanair passengers to Liverpool and to Leeds, adding: "We want those passengers back to fly here from Manchester."