Stepping Hill Hospital saline probe: 50 questioned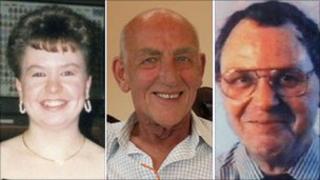 Fifty people have been questioned by police investigating the suspicious deaths of three patients at a Greater Manchester hospital in the past month.
Tracey Arden, 44, George Keep, 84, and Arnold Lancaster, 71, have all died at Stepping Hill Hospital in Stockport through suspected contaminated saline.
Detectives believe insulin was injected into saline containers which were used by at least two wards at the hospital.
A fourth patient is critically ill, NHS Northwest confirmed.
Nine other patients thought to have received the contaminated saline are said to be recovering well.
Inquests into the deaths are due to be opened on Tuesday and south Manchester coroner John Pollard has asked for details of all deaths at the hospital to be referred to him.
It is understood those being questioned include staff and patients.
Security in and around the hospital has been stepped up, to try to reassure patients and their relatives.
All saline on the site has also been replaced.
Mother-of-two and grandmother Ms Arden, from Heaviley, was a long-term multiple sclerosis patient. She died on 7 July, after being admitted to hospital for routine drug treatment.
'Terrible anguish'
Mr Lancaster, of Romiley, died on 11 July.
Mr Keep was admitted to the hospital on 27 June and died on 14 July. The grandfather, from Cheadle, had been suffering from lung cancer but was admitted to the hospital after falling and breaking his hip.
Assistant Chief Constable Ian Hopkins, of Greater Manchester Police, said: "Our thoughts continue to be with the families of Tracey Arden, George Keep and Arnold Lancaster - the anguish they will be feeling at this time must be terrible.
"I would like to reassure them we are doing all we can to find out what caused the death of their loved ones."
Mr Hopkins said 60 detectives were working on the complex operation which included "detailed forensic analysis" as well as questioning patients and staff.
'Incredibly difficult'
"They have worked 24/7 since the investigation began and they working as fast as they can without compromising the quality of the investigation," he said.
He added: "We recognise this is an incredibly difficult time for staff at Stepping Hill Hospital who are dedicated to the care of people and saving life.
"We are working closely with hospital managers to minimise disruption to the running of the hospital, but ultimately our duty is to those who have died and their families to conduct a thorough investigation into their deaths.
"We are also working to reduce the risk of harm to others being cared for at Stepping Hill."
He urged anyone with information to contact Greater Manchester Police.