Mercedes Formula 1 boss Ross Brawn gets degree honour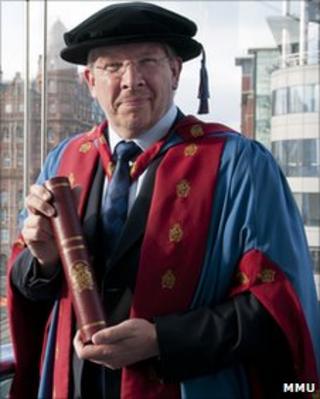 Mercedes GP Petronas principal and renowned Formula 1 (F1) engineer Ross Brawn has been awarded an honorary engineering doctorate in his home town.
Mr Brawn, who is from Beswick in Manchester, has been given the degree by the city's Metropolitan University.
The 56-year-old engineer won six F1 Driver's Championships with Michael Schumacher before setting up his own team, Brawn GP, in 2009.
He was awarded an OBE in 2010 for services to motorsport.
Mr Brawn, who became Team Principal of Mercedes GP Petronas in 2011, was presented with the doctorate at the university's graduation ceremony for students of science and engineering.
He said the award was "very special, as it is from Manchester Metropolitan University and I am a proud Mancunian".
Accepting the degree, he said he had chosen not "to go to university [as] the thing to do in those days was a workplace apprenticeship".
"It is often difficult when you're young to recognise that investing time in study and preparation will pay off in the long run," he said.
In a speech to the graduating students, Mr Brawn said teamwork was the key to success, but that life was also about being properly prepared to take chances when they came along.
"To quote Seneca: 'Luck is preparation waiting for opportunity', or to quote Gary Player: 'The more I practise, the luckier I get'.
"So you must prepare and grab the opportunity for a career in science or engineering when it comes."
Mr Brawn is patron of Formula Student, an organisation which challenges university engineering departments to design and build a racing car for an annual race, and he stressed the importance of teamwork in his speech.
"Michael Schumacher was so successful, so consummate as a professional, because he worked with his engineers and his pit-teams, on an equal footing, to iron out every obstacle to success.
"One of my heroes is Sir Alex Ferguson; he knows all about teamwork, how to get more from a whole team than the sum of its parts.
"So my advice to graduates is prepare and be a team player."
University vice-chancellor Professor John Brooks said they had decided to honour Mr Brawn because of "his outstanding achievements in motorsport and automotive engineering and the inspiration he represents for young and upcoming engineers".