Salford Yemeni community documented in project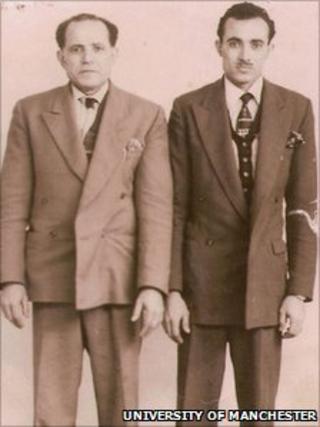 Greater Manchester's only established Yemeni community is to have its experiences in the area recorded for the first time.
The University of Manchester, University of Salford and Yemeni Community Association (YCA) will gather stories from the Eccles-based families.
YCA chairman Gadri Audhali said hidden histories would be told, as "sometimes we feel as though we are invisible".
The project, funded by the Heritage Lottery Fund, will begin in August.
The University of Manchester said the project would explore historic firsts - including the first Yemeni cafe in the area, the first Eccles Mosque and the first halal butcher - and look for historical documents about the community.
Better understanding
Mr Audhali said it would make other communities around Manchester aware of the contribution of the Yemenis.
"Since Yemenis first arrived in the UK in the second half of the nineteenth century, we have made huge sacrifices for the country, especially in the Navy during the first and second world wars.
"We usually did the heaviest and most difficult work on those ships.
"Many died but outside, and even within our community, so few know about it.
"Hopefully, this project will change that, as sometimes we feel as though we are invisible."
The project will collect life stories and experiences through writings and recordings and also use art as a way of allowing a less traditional approach to documenting the past.
Researchers hope to produce a website and teaching materials that will deliver a better understanding of the history of Yemeni people in the area.
The Eccles community has links to the first UK Yemeni communities, in Cardiff and South Shields, and there are currently about 800 families living in Greater Manchester, with the majority living in the Salford town.