Elderly woman Beryl Carter 'missed again by carers'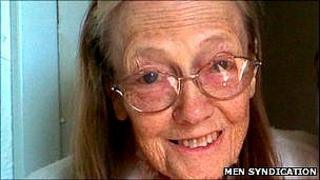 A care worker has been suspended amid claims a visit to a bedridden elderly woman was missed - just a day after it emerged she was left for three days.
Beryl Carter, 85, of Audenshaw, Greater Manchester, who has dementia, was left at home without food or drink for three days when her care provider changed.
Her new care provider Care UK is now investigating reports a carer missed a subsequent visit to Mrs Carter.
The company said it suspended a member of staff pending an investigation.
A company spokeswoman said: "In recognition of the seriousness of the allegation that one of Mrs Carter's four daily care calls was missed on Friday 8 July, we have suspended a member of staff with immediate effect pending the outcome of the investigation."
Communication breakdown
She added: "We consider that any lapse in care provision is unacceptable and we will take whatever measures are necessary to ensure the safety and quality of the care provided to people in Tameside."
Mrs Carter needs help to get out of bed, to dress and have meals.
The first lapse in care for her came when a communication breakdown meant Care UK was not informed of a hospital discharge.
She was discharged from hospital on 28 June and looked after by Housing21, a not-for-profit organisation, until 3 July.
Mrs Carter's care was meant to have passed to Care UK on this date but the firm said it was not informed until 7 July, the day before the latest alleged incident.