RHS Flower Show at Tatton Park to welcome thousands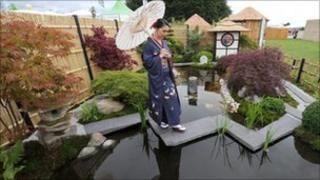 Thousands of visitors are expected to visit the RHS Flower Show at Tatton Park over the next four days.
The show in Knutsford, Cheshire, attracts garden designers and visitors from all over the UK.
Show gardens include award winner Dinosaurs at Large! by Chester Zoo, which features a model dinosaur and plants from prehistoric times.
A garden to highlight knife crime, built with the help of 42 prisoners, won Best Show Garden this year.
The garden, called Save a Life, Drop the Knife, was created by Glen Jackson of HM Prison Everthorpe, who worked with both perpetrators and victims of knife-related crimes on the design.
Sam Youd, Head Gardener at Tatton Park, designed a garden to celebrate 100 years since the completion of the Japanese Garden at the park.
Called Paradise Isle - 100 Years On, it is based on the one designed for the Egerton family at Tatton Park after their visit to the Anglo-Japanese exhibition in London in 1910.
Mr Youd, from Liverpool, is retiring from Tatton next year after 30 years at the park.
"We've done a lot of restoration work and it has been exciting," he said.
"I originally came here for three years but like a proper Scouser I can't count, so I ended up it's got a zero on the end and it only really feels like yesterday when I arrived."
Show gardens have also been built to highlight work done by Oxfam, Cancer Research UK and the NSPCC.
The show opened to RHS members on Wednesday and opens to the public from Thursday until Sunday.