Peter Fahy rules himself out of Met commissioner contest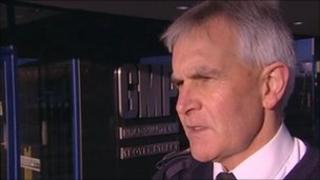 The chief constable of Greater Manchester Police has ruled himself out of applying for the job of Metropolitan Police commissioner.
Writing on his blog, Peter Fahy said he had no wish to replace the outgoing commissioner, Sir Paul Stephenson, who quit over the phone-hacking scandal.
Mr Fahy had been named as possible favourite for the job.
"I would like to clarify that I myself will not be applying for the role," he said.
Mr Fahy said he had the "highest regard" for Sir Paul and Assistant Commissioner John Yates, who also resigned over the issue.
'Corruption not endemic'
"They have done many fine things to protect the public and serve their country," he wrote.
"They have been open and honest in admitting misjudgements and shown courage in resigning.
"What is bewildering is that this case is being used by some to suggest that corruption is endemic in British policing, which it is not.
"We have always admitted that we have some staff in our organisation that do bad things, including disclosing information to others - sometimes criminals, sometimes journalists and sometimes family or friends - and we take this very seriously.
"Officers have been jailed for doing this, but that does not mean corruption is endemic or institutional."
He said relationships with the media were a day-to-day part of policing, with witness appeals and telling the public what they had a right to know, which was a "crucial part of our accountability".