Peter Fahy: hacking row has 'lowered police morale'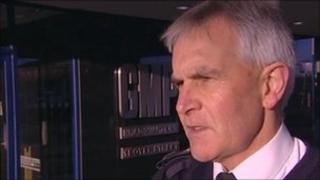 Allegations of unhealthy links between the media and police chiefs have upset ordinary officers, Greater Manchester's chief constable has said.
Mr Peter Fahy also said: "All of us in the police service have looked at it with great dismay."
He added: "That's not the relationship that we [Greater Manchester Police] have with the press, we have a very prickly relationship."
Claims officers received media cash emerged in the phone hacking scandal.
Mr Fahy said officers were upset that corruption might be seen as endemic following allegations that police personnel had received payment for information from journalists and senior officers had too close a relationship with senior staff at News International.
'Hugely dismayed'
"What has dismayed us is that this has been used to suggest there is a huge problem with corruption which I don't think there is," said Mr Fahy.
He added: "Ordinary coppers out there doing their job will be hugely dismayed at this."
Mr Fahy also said ordinary police officers felt there had been a campaign to denigrate policing.
"The whole publicity, has damaged the morale of a lot of honest coppers out there doing their best," he said.
Mr Fahy also repeated comments made in his blog this week ruling out his interest in the post of Metropolitan Police Commissioner vacated by Sir Paul Stephenson in the wake of the phone hacking row.
"I work in the best city in England and that is why I have no intention of applying for the job," he said.