Is it right to stab an intruder?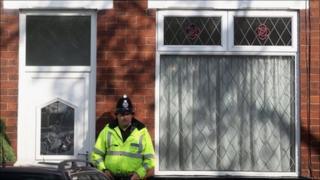 In June, a 59-year-old man was confronted by machete-wielding intruders at his home in Greater Manchester.
Peter Flanagan "did what he believed necessary" to defend his home in Pendlebury, Salford, and fatally stabbed one of the alleged burglars.
Prosecutors said Mr Flanagan acted "honestly" in self-defence over the death of John Bennell, 27.
At the time of the death, the use of force to protect a home was already a hot topic.
The day before the break-in, Prime Minister David Cameron told reporters he intended to "put beyond doubt that homeowners and small shopkeepers who use reasonable force to defend themselves or their properties will not be prosecuted".
'Common sense prevailing'
A week later, Justice Secretary Kenneth Clarke said legislation was needed to clarify what force could be used, and that, if a householder stabbed a burglar, the householder would not be prosecuted.
"What they're not entitled to do is shoot them in the back when they're running away," Mr Clarke added.
This comment made reference to the case of Tony Martin, the Norfolk farmer who shot and killed a 16-year-old intruder as he attempted to flee from his home in 1999.
Martin was jailed for murder, later reduced to manslaughter, prompting a national debate.
Malcolm Starr, friend and spokesman to Martin, said the CPS decision not to prosecute Mr Flanagan was "common sense prevailing at last".
He said: "I think it is wrong that this innocent householder has had to remain under this cloud for three to four weeks. Why the police can't make a decision quicker, I really do not know."
Ch Supt Kevin Mulligan, of Greater Manchester Police, said the force had made the "right and proper decision" to arrest Mr Flanagan.
"We had a duty of care to John Bennell's family, the occupants of the house and to the coroner to fully investigate this death to determine whether or not it was a criminal act or one of self-defence," he said.
Mr Starr disagreed that Mr Flanagan should have been arrested for "protecting his home and his family".
"After what David Cameron said about householders being protected, this man should never have been arrested. That was wrong in itself," he said.
"But I do think the CPS decision is good news and I think it returns power to the householder. People shouldn't have to live under this cloud."
'Spiral of violence'
According to the 2008 Criminal Justice and Immigration Act, homeowners who use "reasonable force" to protect themselves against intruders should not be prosecuted.
One legal expert from Greater Manchester has warned the government that interfering with this law could be "counterproductive" and lead to a "spiral of violence".
Richard Holliday, solicitor and specialist in criminal law, said: "There has been a proposal from Mr Cameron that householders should now be allowed to use more than proportionate force and only be prosecuted if they use wholly disproportionate force.
"The danger in those circumstances is that that information will filter down to the burglars who might themselves anticipate the likelihood of violence being used against them.
"They may in turn arm themselves and be more prepared to use violence. I think you get a spiral of violence generating out of that."
The Ministry of Justice declined to comment on this possibility, but did say it was "looking at ways of clarifying the law so people are clearer about what this means in practice".
The BBC understands amendments will be tabled to the sentencing bill which is currently before Parliament.