Manchester Mega Mela in city's Platt Fields Park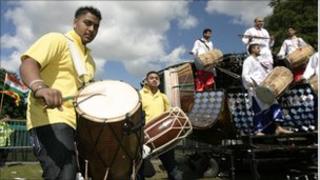 Thousands of people are expected to turn out over the weekend to celebrate South Asian arts and culture at the Manchester Mega Mela.
The festivities are being held at Platt Fields Park in Rusholme on Saturday and Sunday.
The festival, which is free, includes music, dance, arts and crafts, street theatre, sports, food stalls and a fun fair.
In previous years, the event has attracted more than 50,000 visitors.
This year, people will also be trying to break the Guinness World Record for the largest Bollywood dance.
The event has been organised by representatives of communities from Bangladesh, India, Nepal, Pakistan and Sri Lanka.
Councillor Mike Amesbury, Manchester City Council's executive member for culture and leisure, said: "Following the success of events such as Manchester Day and this year's Manchester International Festival, the Manchester Mega Mela is yet another important date on the summer's cultural calendar.
"The Mela is a celebration of the cultural diversity which exists here in Manchester and this excellent free event is enjoyed by tens of thousands of Manchester residents, as well as people from further afield, every year."
Khairul Alam, one of the event's organisers, added: "We're proud to bring the largest celebration of South Asian arts and culture to Manchester and once again, we welcome people from all cultures and religions to our event."