Free sports events mark year until Olympics Games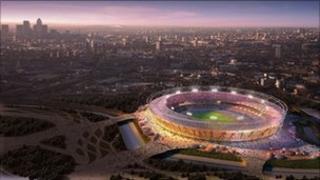 A council is marking one year to go until the start of the Olympic Games by offering free sports sessions at some of its leisure centres.
Sixteen of Manchester City Council's centres are hosting activities including swimming, squash, badminton, five-a-side football and tennis.
The local authority said it wanted to encourage people to get involved in sport regardless of age or ability.
Several Olympic squads will be based in the city as they prepare for the games.
'Sporting city'
They include the United States' basketball teams, the Australian swimming team, the Thai football squad and the Brazilian Paralympic team.
Councillor Mike Amesbury, executive member for culture and leisure, said: "Next year will see an enormous focus on sport and I am proud that Manchester will be so heavily involved with the 2012 Games.
"The Commonwealth Games showed Manchester was a truly international sporting city, since then we have continued to build on the Games' legacy and it is fantastic to see that recognised by the Olympic and Paralympic teams that have chosen to base their training camps here.
"Sport is not just for elite athletes, and hopefully the Olympics will inspire local residents to be more active and take advantage of the world-class facilities on their door step."