Plaques for war soldiers unveiled in Manchester cemetery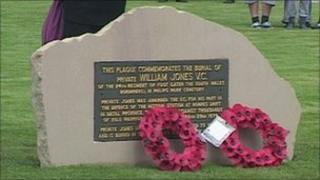 Plaques to honour six men who risked their lives in military action in the 19th and 20th centuries have been unveiled in Manchester.
The brass plaques have been put on display at Philips Park Cemetery.
One honours William Jones who was awarded the Victorian Cross for his part in Rorke's Drift during the Anglo-Zulu war in 1879.
Another honours George Stringer who was given the same medal for his actions at Mesopotamia in World War I.
Their plaques had been saved and stored after their original chapel home in Philips Park Cemetery fell in to disrepair.
Manchester residents John Richardson and Richard Brown, who fought in the Battle of Balaclava during the Crimean War in 1854, are honoured on a third stone.
'Didn't seem right'
John Lyons and Joshua Lodge who survived a siege at Rorke's Drift, but did not receive the Victoria Cross, are honoured on a fourth stone.
The unveiling at a special ceremony at the cemetery earlier follows a seven-year campaign by Sgt Andy Tunnicliffe and others.
He said he visited the cemetery in 2004 wanting to visit one of the servicemen's graves but could not find it.
"We sent them to fight for our country abroad as much as soldiers today," he said. "It just didn't seem right."
"If we are going to put plaques up to commemorate people then they should stay up."
He said he hoped people would see the plaques on display and be encouraged to research their own families.