Oldham aims for teamwork to be Olympic 2012 legacy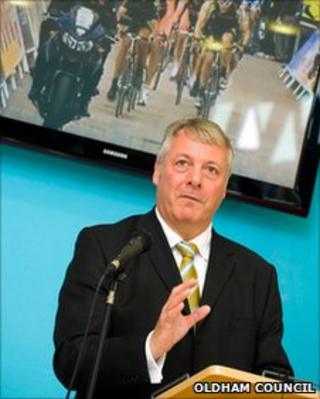 On first inspection, Oldham may not be the most obvious place to be awash with Olympic dreams.
In sporting terms, it lies in the shadow of its neighbour Manchester, a city that is home to everything from football champions to gold medal cyclists.
Oldham, by comparison, has League One football and Championship 1 rugby league to offer its townsfolk.
Yet that is not stopping the town coming together to work towards creating a lasting legacy out of the London 2012 Games.
The One Future initiative has been launched by Oldham Council to coincide with the start of the year countdown to the Games.
It sets out a number of goals for the borough, which go from giving young people the chance to meet their sporting heroes to trying to persuade a fledgling sport in Britain - handball - to base itself in the area.
At its launch, Oldham Council leader Jim McMahon said it presented "a great opportunity to firmly position ourselves on the Olympic map".
'Joined-up thinking'
Jeremy Broadbent, the chairman of One Future's steering group, says while that seems a grand ambition, it is achievable, because of the way the borough is trying to build its legacy.
"I think the unique side that we've got is that we have a partnership approach.
"We have been called inspirational and different [by Andy Worthington, Chairman of the Northwest Steering Group for the 2012 Games] because of this.
"Appropriately enough for the Olympics, our hope is to improve teamwork.
"One of the things we started off with is how do we get a bit of joined-up thinking?
"A big idea of that is the public-private partnership."
It is that idea, achieved both locally and nationally, that Mr Broadbent says would give the financial clout to the aims they have set out.
"There is money still available for sport, there are funders, but there is also a number of private sector developers who get involved with taking on public facilities.
"It's about bringing these parties together."
He says it is important for Oldham to use the Olympics as "a catalyst to improve the economy, sports, health community and arts across the borough".
"We're trying to use it to improve the image of Oldham and to join up all the different bodies to work together, so we almost get a two plus two equals five situation," he says.
"It is about raising the aspirations of the people of Oldham and improving the facilities as well."
Mr Broadbent says there are "embryonic" plans in place for new facilities, which he hopes will bring handball to the area, and for impacts beyond the Olympic year.
He says that in simple terms, the group want their Olympic legacy to be "good and continuing teamwork".
"Without wanting to embrace 'Big Society' thinking as such, it is about doing more for the community with what we have."
What they achieve remains to be seen, but in One Future, Oldham has embraced the Olympic ideal of 'faster, higher, stronger' in its future plans.