Trafford General Hospital announces takeover partner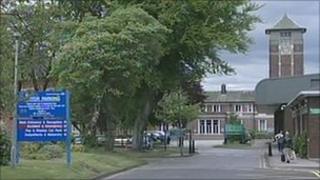 The trust responsible for the birthplace of the NHS has announced the preferred trust to take it over.
Trafford Healthcare NHS Trust has picked the larger Central Manchester University Hospitals NHS Foundation Trust (CMFT) as preferred partner.
Trafford General Hospital treated the first ever NHS patient when the health service was inaugurated in 1948.
NHS North West is to negotiate with CMFT to agree funding.
The trust announced last December that it was seeking to become part of a larger trust because "it is too small to remain financially viable as a standalone trust."
It said trust income had dropped in recent years with further falls expected as GP and primary care trust commissioners plan to switch to community services.
The other bidder it had to choose from was the University Hospital of South Manchester NHS Foundation Trust.
Fay Selvan, who chairs Trafford Healthcare NHS Trust, said: "We were really pleased with the way both bidders engaged in the process and by their enthusiasm and commitment to the opportunity.
"Both foundation trusts met the evaluation criteria. CMFT's score was higher, however, which is why we are recommending them as our preferred acquisition partner."
The details should be finalised next April.