George Keep death 'not part of Stepping Hill probe'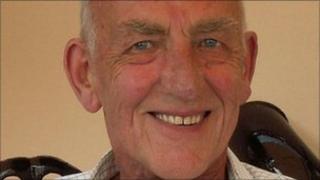 Police investigating the alleged deliberate contamination of saline at a Stockport hospital are no longer investigating the death of one man.
Officers said the death of George Keep, 84, at Stepping Hill Hospital was no longer part of its inquiry after post-mortem test results were studied.
Nurse Rebecca Leighton, 27, has been charged with three counts of criminal damage with intent to endanger life.
She will next appear at Manchester Crown Court on 1 August.
Det Supt Simon Barraclough, who is leading the investigation, said: "As a result of the processes we are undertaking the death of George Keep will no longer form part of our investigation."
Ms Leighton is alleged to have tampered with medical products, saline ampoules and saline bags.
Blood sugar levels
Saline solution at the hospital had been contaminated with insulin, which can cause low blood sugar levels, police said.
Detectives, South Manchester coroner John Pollard and hospital staff are scrutinising post-mortem examination results, medical histories and any medicines or drugs that individuals may have received while at Stepping Hill.
Mr Keep, from Cheadle, Stockport, had lung cancer and had been admitted to Stepping Hill on 27 June after breaking his hip in a fall.
He died on 14 July two days after a nurse raised concerns about unusually high numbers of patients having unexplained low blood sugar levels.