Dog found in Wythenshawe with blade in its chest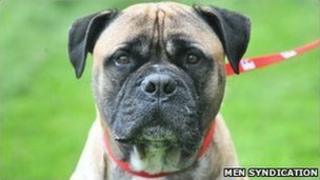 A dog was discovered with a five-inch blade sticking out of his chest.
Six-year-old Arnie, a bull mastiff, was stabbed in Wythenshawe, south Manchester on Sunday.
He was taken to Pet Medics in Wardley, Salford with the knife still in his side. Vets discovered the blade was just one inch from his heart.
Staff at the centre stabilised him and were due to operate on him the following day. However, the blade came out that night, before the operation.
Vet Sinead Bennett said: "He has just been really lucky. It didn't go through any of his major vessels.
'Really sweet'
"If it had gone in much further and punctured his heart then he wouldn't be here with us.
"He was also really lucky that it didn't cause any trauma when it came out and that he didn't have to have surgery as it would have been a major operation."
She added: "We see some horrendous things in here from time to time.
"It is amazing what people will do to animals. It really shocks you to your core."
She said she had never seen an animal which still had a knife inside them.
Arnie was "really sweet," she said. "If you sit in the kennel with him he puts his legs up, looking for a cuddle," she added.
Arnie's owner has now been traced and he is due to return home later. The dog is expected to make a full recovery.
A spokesman for Greater Manchester Police confirmed it was investigating the incident.
The knife is due to be examined by forensics' officers.
Officers are also investigating reports that the dog may have been taken from a home in Button Lane, Northern Moor.