World record for F2A model plane fan Ken Morrissey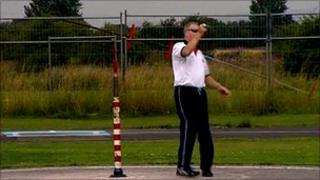 A model plane enthusiast broke a world record four times in a single event when he became European champion.
Ken Morrissey a member of Barton Model Flying Club, Gtr Manchester took gold in Poland in the individual F2A speed event for high speed model planes.
"I'm over the moon, I haven't slept for nights since," said Mr Morrissey.
Described by him as the "Formula One of model planes", the event involves the planes flying round a pylon on a steel wire.
"I went there expecting to be in the top three or four places but to win every day with world records every day is just a dream," said Mr Morrissey.
The sport involves the planes being set off at around 90mph (145km/h) and reaching speeds in excess of 180mph (290km/h) as they are spun round the pylon by their pilot.
The last of the record speeds set by Mr Morrissey was 191mph (307.4km/h).