Accused Bolton doctor 'abused by wife'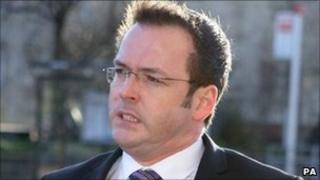 A doctor accused of physically abusing his former wife has told a court she was the bully and it was he who was frequently assaulted.
Dr Simon Stacey, 40, a consultant physician at Royal Bolton Hospital, said there was no substance to nurse Victoria Stacey's complaint.
He denies one count of assault occasioning actual bodily harm.
The doctor, of St Helens, told Bolton Crown Court his ex-wife would attack him when the "red mist" came over her.
The pair met at the hospital in 1995 when Dr Stacey was a senior house officer and his future wife was a ward nurse.
Five years later they married and had two daughters, but the court heard they had a turbulent relationship in which Dr Stacey said his wife's jealousy caused many arguments.
'Argumentative and aggressive'
The court heard Mrs Stacey made a complaint about the alleged March 2009 assault almost a year after it happened.
She denied that it was fuelled by anger that the doctor had exposed her extra-marital affair with a family friend and envy that Dr Stacey had started a new relationship with an ex-girlfriend.
She told the court how she thought her ex-husband was going to kill her as he repeatedly hit her with a trainer in her daughter's bedroom.
Dr Stacey said his wife was "highly strung and quite jealous". He said after the birth of their first child she started to criticise him.
"Around that time I became subject to physical attacks," he said.
"There would be scratches and punches in the midst of an argument.
"It would get to the point where she would lose her rag. We would call it her 'red mist'.
"She would dig her nails into my neck and punch me on my arms."
He said she had a "confrontational, argumentative and aggressive side".
"Nothing was ever good enough. I could not do enough housework or childcare. I was lazy, I was useless," he said.
He denied using any force against her in response.
The case continues.