Tameside Council confirm date to stop sewer stench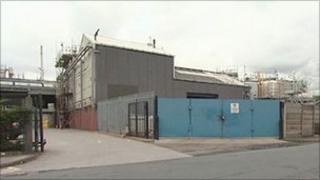 Work to rid drains of strong chemical smells from a Tameside factory will take three weeks, the council has said.
Residents in the Dukinfield and Stalybridge areas have lived with the intermittent smell for many years.
A council letter to homeowners said a major repair scheme was due to start on 8 August.
It said United Utilities contractors had been taking samples of soil to find the right materials to complete the work.
Vapours and water are currently being pumped out of the nearby sewers.
Water bosses said stoppers had been put into the sewer network to help prevent smells reaching homes.
'Frustration'
The Health Protection Agency, which had been asked to advise on health risks, said test results taken from nearby homes showed that there were unlikely to be any long-term health effects.
Factory operator Stepan UK confirmed it was continuing monitoring activities until the repair is finished to provide more information and assess whether there could be any long-term health impacts.
Councillor Catherine Piddington, executive member for environmental services at Tameside Council, said: "We understand the frustration of the local residents, but we would like to assure them that everyone involved is committed to rectifying this ongoing issue."
The Stepan UK factory in Stalybridge has been working with United Utilities and Tameside Council to stop the smell spreading.
A strong chemical odour is being experienced by people living near the factory on Bridge Street.
The firm said that lining nearby sewers could provide a solution.