YouTube appeal boy recovers from surgery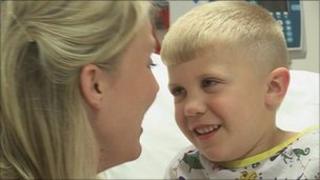 A five-year-old boy from Greater Manchester who made an appeal on You Tube to raise money for surgery in the US is recovering from his operation.
Kieran Forde-Thain, from Davyhulme in Trafford, has a form of cerebral palsy, known as periventricular leukomalacia.
His online appeal helped his family raise £55,000 for surgery at St Louis Children's Hospital in Missouri, which is not available in the UK.
He had the operation, called a selective dorsal rhizotomy, on 26 July.
The specialist team have carried out the procedure - which involves cutting unresponsive nerves in the spine to increase muscle tone - on about 50 children from the UK.
'Long way ahead'
Kieran is due to undergo another operation on 11 August and will also have to have intensive physiotherapy for months.
The surgeon, Dr T.S. Park, said: "He will be able to walk by himself without any support."
"Obviously that will improve the quality of his life and also it will improve the quality of his family because he won't need any special care."
Kieran's father, Jonathan Thain, said: "There is going to be a long way ahead but we couldn't have done it without everyone's help."
Amanda Forde, Kieran's mother, said she was looking forward to being able to tell him that they had done all they could for him.
"We have made it the best we possibly could for him," she said.