Carrbrook library founder says it is 'community heart'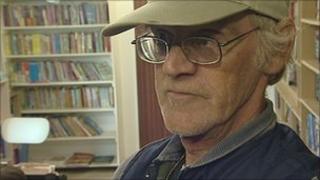 The founder of a library set up in a cabin after a local mobile service was cut says it has become the heart of the community.
Terry Drabble came up with the idea for Carrbrook Library in Stalybridge after Tameside Council withdrew their service to the estate in 2007.
The building opened with 100 books a year ago, but now offers 3,500 and is set in a new community garden.
Mr Drabble said it has become "our community centre within a library".
He said he was driven to open the library because he believed local families were missing out, as they had to travel to different areas to access services.
He said: "I wanted to do something for the children, so I thought 'why not have our own library?'
"It costs us nothing - all it costs us is the volunteers to work in the library."
He said while the facilities in the portable building may be "a bit dated compared with their computers", the library offered as good a service as the local council-run establishments - and that they have only one rule.
"All we ask is that there's no damage to the books - and out of 3,500 books, we haven't had one damaged," he said.
He said the books cost the library nothing "except a smile".
"We have a good variety of books - we can't please everybody but for nothing, what do you expect?"
"Everything's donated and what we tend to do if we have doubles is that we give them to a charity shop so it helps them as well."
Having achieved a working library, Mr Drabble and the local community have been improving the area around it.
It was set up on waste land in the Carrbrook estate which the volunteers have now turned into a community garden.
Mr Drabble added he was happy with what has been achieved.
"This is our community centre within a library, which is independent from everybody, and we're dead pleased."