Top student Tayaba Nicholson sees mental health as priority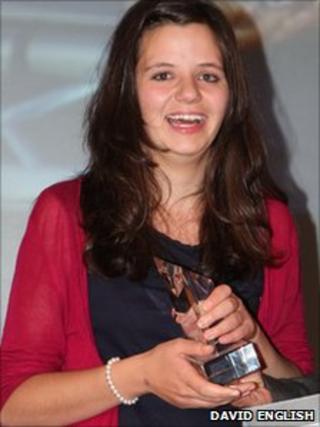 Ensuring people have good mental health is very important to Tayaba Nicholson.
Her interest made her specialise in it on the nursing course she has recently completed at the University of Manchester.
More than that though, it drove her to set up a group promoting good mental health, a decision which has led her to being named the National Union of Students' Student of the Year 2011.
Ms Nicholson said the reason she set up Mental Wealth Matters was a simple one.
"I became aware at the end of my second year that there were quite a lot of student suicides and I wanted to set something up to help," she said.
"I was doing mental health nursing and I felt incredibly passionate about it.
"I set up the society with the help of Papyrus, a national charity to do with the prevention of young suicide, and intially we thought 'should we set up a support group?'.
"We felt the university offered a lot of support already through its counselling service, so we set out to promote awarness of mental health issues."
A different approach
The first Mental Wealth Matters event saw Ms Nicholson put "hopeful-tagging" around campus.
"We made all these luggage tags and got people to come in and write really positive messages [on them].
"It was really bright and colourful, and they had helpline numbers on them too."
Since then, Ms Nicholson has run several events, which has consumed much of her time outside of lectures.
She said when she began the society, her tutors were concerned, but she is certain that it helped her with her degree.
"It made me look at another way in which you can promote mental health awareness and well-being," she said.
"A lot of people would probably think that mental health nursing and a mental health society would be too much, but what we did was fun.
"I met new people and we all felt like we really made a difference."
She said she hoped the award she received from the NUS would help break the stigma around mental health and encourage more universities to raise awareness of the issues.
'Delighted'
She was put forward for the title by the University of Manchester Students Union welfare officer Hannah Paterson.
She said she was simply "thrilled" to be nominated.
"When we got the email to say I'd been shortlisted, I had a look at my competition and thought 'there's no chance I'll win it'.
"I was completely shocked when I did.
"I was on a high for a week - in fact, I still am, I'm still pinching myself.
It is the second year running a University of Manchester student has won the title of NUS Student of the Year.
In 2010, Joseph Akinnagbe was awarded the prize for his work supporting the Students' Union and community and business projects.
Dr Pat Sponder, Head of Student Support and Services at the university, said Ms Nicholson's work had made a real difference on campus.
"The UMSU Mental Wealth Matters Society is an extremely positive contribution to student wellbeing," she said.
"Mental ill health is a significant problem for many young people and campaigns such as those run by Mental Wealth Matters help to overcome stigma, generate peer support and raise awareness of sources of help and advice.
"We are delighted that Tayaba has received recognition for her efforts.
"Anything that raises the profile of mental ill health is to be welcomed."