Salford methane site residents face six-month evacuation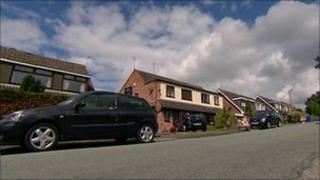 Residents in a Salford street are to be evacuated from their homes for six months while the council tries to make it safe from methane gas.
Six Birchfield Drive houses will be vacated in the next two weeks as the council tries to cope with a long-running problem.
Gas seeps into the houses from the ground because the estate is on a former landfill site.
Salford Council has claimed its work will solve the problem permanently.
In addition to a constant unpleasant smell residents have also had to live with the risk from the potentially lethal methane site.
Tips issued eight years ago included a request to avoid the frequent switching on and off of electric lights and avoiding the use of candles.
Each house has to have methane monitors.
"The smell of the gases that come up, it smells like drainage," said resident Amanda Downie, who has still to find temporary accommodation.
"It's horrific - the fact is that you're paying a mortgage on something that isn't worth anything and it's never going to be worth anything," she said.
She also said her house was sinking because of being built on a former landfill site.
Paul Walker of Salford City Council said: "I realise the residents have been living under some stress.
"We can have all the works completed in six months and we will never have to come back again," he added.