Water works on Manchester city centre road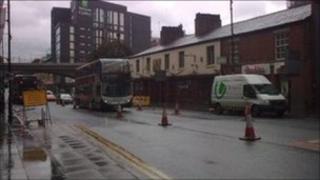 Emergency water works are being carried out on one of the busiest routes into Manchester city centre.
Engineers are working to repair an underground water meter chamber on Oxford Road, near the Palace Theatre.
United Utilities said the work would affect a 30m (100ft) section of the city-bound side of the road from Monday until 25 August.
It said the work needed to be carried out to prevent serious damage to the road.
A spokesman said: "We're sorry for any temporary disruption this causes, but the repair work needs doing as soon as possible to prevent serious damage to the road.
"We've planned this in consultation with Manchester City Council who have asked us to do the work after the Sky Ride finishes and before Manchester Pride starts on the August Bank Holiday weekend.
"We'll complete the work and get the lanes reopened as quickly as possible."