Greater Manchester Police vans show most wanted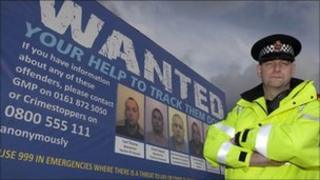 The faces of 12 of Greater Manchester's most wanted criminals are being displayed on the side of police vans in a bid to track them down.
Officers are searching for the men over crimes including assault, robbery and burglary.
A similar operation launched in March, in which images of 36 wanted people were displayed, led to seven arrests.
Police hope anyone who knows the whereabouts of any of the 12 will contact them.
Insp Phil McDonald, of Greater Manchester Police's Metropolitan Division, said: "We know from speaking to the community that you want to see these offenders pay for their crime and we hope that by using tactics such as these those people can be brought to justice.
"Our officers have carried out great work to reduce the numbers of our outstanding offenders, but there are still people on the run trying to evade punishment for their criminality.
"We would like to urge anyone who knows that they are wanted to hand themselves in to police immediately. Anyone found to be helping those who are wanted could also find themselves in trouble.
"I would also like to appeal to the community to work with us and help bring these suspected criminals out of hiding and make our streets safer."