Bolton doctor Simon Stacey cleared of abusing ex-wife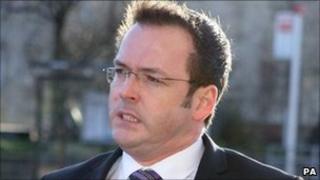 A doctor has been cleared of a charge that he physically abused his former wife during their 14-year relationship.
Dr Simon Stacey, 40, a consultant physician at Royal Bolton Hospital, told Bolton Crown Court he had never hit Victoria Stacey, a community nurse.
He wept as the jury found him not guilty of assault occasioning actual bodily harm.
Dr Stacey of St Helens, Merseyside, had said in evidence that he had been the victim of his wife's physical abuse.
The court heard that the pair, who married in 2000 and have two daughters, met at the hospital in 1995 when Dr Stacey was a senior house officer and Mrs Stacey was a ward nurse.
Mrs Stacey told the court that she had not been motivated by spite when she made a complaint last year about the alleged incident in March 2009.
She denied that she was angry that her ex-husband had exposed her affair with a family friend and said she was not envious that Dr Stacey had begun seeing an ex-girlfriend.
She told the court that she thought the doctor was "going to kill me" as he allegedly hit her with a trainer in her daughter's bedroom.
Dr Stacey said in evidence that his ex-wife's jealousy caused arguments and that she would attack him when the "red mist" came over her.
He declined to comment after the verdict.