Greater Manchester Police make call to maintain peace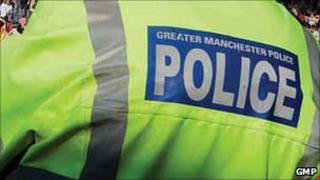 Greater Manchester Police has joined community leaders to call for people to remain peaceful as riots spread in other parts of the country.
Assistant Chief Constable Terry Sweeney said the force was "working closely with community leaders to stand up for calm".
Khan Moghal, from Manchester Council for Community Relations' (MCCR), said he wanted "to maintain the peace".
He said MCCR "will not tolerate any attempt to sabotage that".
Mr Sweeney said while there had been no disturbances reported in Greater Manchester, the force was "monitoring the situation extremely closely".
"Should we be faced with any incidents of disorder or criminality, we will respond in a firm and robust way that supports our communities' expectations and maintains public safety.
"We are working closely with community leaders to stand up for calm and together we can maintain trouble-free streets."
Manchester Council for Community Relations is an association of 40 community leaders.
Chief executive Mr Moghal said the communities of Manchester were "extremely concerned at the level of rioting and destruction in London".
He said his organisation condemned the "mindless destruction and looting" and were "mindful of any copycat acts in our city".
'Early action'
"People have worked very hard over many years to build our peaceful communities.
"We ask everyone to report any suspicious activity to the police so that early preventative action can be taken."
GMP has sent 100 officers to London to assist the Metropolitan Police.
The Met has said it will increase the number of officers on the streets from 6,000 to 16,000 and had requested help from forces across the UK to achieve that figure.