Labour leader Ed Miliband visits riot-hit Manchester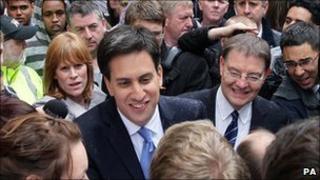 Labour leader Ed Miliband hailed "the real spirit of Manchester" as he met volunteers involved in the city centre clean-up following Tuesday's riots.
A large crowd gathered as Mr Miliband observed damage done by rioters and looters in Manchester city centre.
He visited affected businesses in Brown Street and Market Street, meeting with volunteers helping to clean up.
He told them: "This is the real spirit of Manchester, isn't it, rather than the yobs and what they do."
Standing outside the burnt-out Miss Selfridge store, he told members of the public the first thing that had to be done was to "restore public order".
He added: "Then we have got to look into the causes, why people are going around doing this. And I think there are a complex number of causes."
Twitter group
Mr Miliband met nine-year-old Jess Reid, from Denton, whom he thanked for volunteering to help clean up the city centre.
The gathering crowd responded by giving her a round of applause.
He also met other volunteers who had come to clean up the city centre after Jeremy Myers, 34, started the Twitter group @cleanupmanc.
Mr Myers told the Labour leader that the Twitter group, which he only set up last night, had 6,500 followers and 1,000 people had turned up to help.
Following his walk around the city centre, Mr Miliband is believed to have met with Peter Fahy, Chief Constable of Greater Manchester Police.