Extra police helps prevent repeat of Manchester riots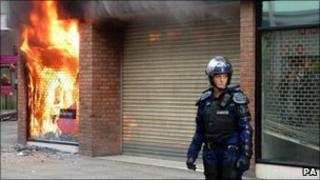 An increased police presence on Greater Manchester's streets has helped prevent a repeat of Tuesday's riots.
Police said two men were arrested in Salford after their car was stopped and a balaclava, ball bearings, a fuel can, drugs and cash were discovered.
Manchester City Magistrates' Court has worked throughout the night to process cases.
Among the first people jailed for their roles in the riots was a man given eight months for stealing clothes.
Greater Manchester Police (GMP) are estimated to have deployed about 1,000 officers on Tuesday and had pledged to increase numbers on Wednesday, but did confirm by how many.
Officers, including reinforcements from other forces, wore high-visibility jackets and patrolled in small groups around the centres of Salford and Manchester.
The number of arrests for previous violence stands at 147, including an 18-year-old man being questioned on suspicion of arson after Market Street's Miss Selfridge was torched.
Some 71 of those appeared before a special overnight sitting at Manchester City Magistrates' Court.
Chief Constable Peter Fahy thanked the "amazing people of Greater Manchester" who have been "endlessly resourceful and positive in the face of extremely challenging times".
'Total commitment'
"We had a substantial number of officers on duty throughout the night and this, together with the rain, contributed to an evening in which there was no significant disorder," he said.
"My officers have once again demonstrated their total commitment to the job, working long hours to ensure our streets are safe."
He added: "This is a significant investigation and we will continue to release images of those who have been caught on CCTV committing criminal acts on our streets.
"It is important people know we will not stop until we have put people before the courts and our streets are safe."
Officers are working through hundreds of images from Tuesday night, sent in to the force through Flickr and Facebook, he said.
Manchester's Arndale Centre closed three hours early at 17:00 BST on Wednesday but reopened as usual on Thursday morning.
The Tesco Metro store was the only shop in Market Street to remain open during the evening.
Most stores were closed around Deansgate but the north of the city, around Piccadilly, was trading as usual.
The riots, which saw shops and cars torched and large-scale looting, began at Salford Shopping City on Tuesday afternoon and spread to Manchester city centre through the evening.
They followed three nights of disorder in London, which had begun on Saturday after a peaceful protest over the fatal shooting by police of a man in Tottenham, north London.
GMP said they were called to 800 incidents in Manchester city centre overnight on Tuesday and about 130 in Salford. Ten officers were injured, including one who suffered a broken ankle.
Greater Manchester Fire Service reported 155 fires across the city centre and Salford on Tuesday.
Among those to have received jail sentences are a 28-year-old man sentenced to eight months for stealing clothes and a 45-year-old man jailed for 20 weeks for assaulting a police officer.