Manchester riots: Boy of 12 appears in court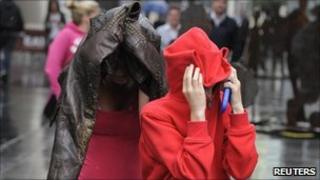 A 12-year-old boy seen running from a looted supermarket carrying a bottle of wine has appeared in court.
The boy, who cannot be named because of his age, admitted burglary when he appeared at youth court sitting at Manchester City Magistrates' Court.
Judge Jonathan Finestein gave him a nine-month referral order.
Police said 145 people have been arrested and 97 charged. Eight were jailed overnight. Two more were jailed on Tuesday, police said.
The boy and his mother swore at reporters outside the court.
A 30-year-old man from Stockport who was caught "red handed" coming out of the looted Maplin electrical store carrying a Macmillan Cancer charity box containing £50, was one of many of the cases dealt with by district judge Alan Berg.
The judge told him: "I have to say, your crime is probably the most despicable and contemptible I have had to deal with all day.
"It is breathtakingly wicked. You ought to be ashamed of yourself."
The man was remanded in custody for sentencing at the crown court.
A 19-year-old student, with no previous convictions, admitted taking a £200 camcorder from Maplin. He was also remanded in custody.
'Utterly intolerable'
Another man, 47, from Collyhurst, who has 126 previous convictions, was found with £1,000 worth of jewellery from Links of London in Manchester. He pleaded guilty to handling and will be sentenced at Manchester Crown Court later.
A 21-year-old was spotted by officers in Marks and Spencer holding a shopping basket to carry bottles of champagne he was taking from shelves.
Another confessed to catching a bus into the city centre to go looting "for a laugh".
Judge Berg told him: "This type of behaviour is utterly intolerable, no civilised society should be expected to put up with it.
"You came into town for a laugh?
"There is nothing remotely amusing about stealing other people's property, breaking into premises and trashing that property."
Greater Manchester Police are continuing to load images of suspects onto its website and Flickr site and have urged people to look at them to see if they recognise anyone.
Meanwhile, the force said it was in the process of returning Manchester and Salford to normality.
'Business as usual'
Assistant Chief Constable Garry Shewan said: "We are working incredibly hard with our communities and businesses to reassure them we will maintain that high visibility presence and also encourage people that it is safe to come into our towns.
"Of course we understand there is nervousness among some people but we want people to go about their daily business as usual."
He said police had not cancelled any football matches or events, such as the Moss Side Carnival. He urged people to attend the events as normal.
"This was criminality, pure and simple. It had no racial element to it. It was just mindless violence so I want to let people know that there is no evidence to say any political groups organised or played a part in the disorder."
'Massively successful'
CityCo, Manchester's city centre management company, said businesses planned to resume normal opening hours tonight.
Bars and restaurants across the centre, including the Northern Quarter, Deansgate Locks, Canal Street and Piccadilly, were due to remain open.
The Arndale shopping centre and stores including Harvey Nichols, Selfridges, Debenhams, Marks & Spencer and House of Fraser were also due to stay open until 20:00 BST as usual.
Vaughan Allen, chief executive of CityCo, said: "Businesses are defiant and want to get back to normal hours as quickly as possible.
"Manchester has been massively successful over the last few years beating the recession and we can't let one night of madness beat us."