Salford looting: Boys handed in to police by mothers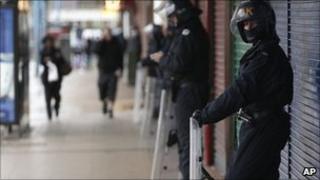 Two boys allegedly pictured taking part in riots on Tuesday night have been arrested after being handed in by their mothers.
A 15-year-old pictured trying to prise open the shutters of a shop in Salford Shopping City was being questioned on suspicion of burglary.
A 14-year-old whose picture appeared in a national newspaper was charged with burglary with intent to steal.
He is due to appear before Manchester Magistrates' Youth Court on 13 August.
Meanwhile at the court, a boy of 13 admitted possessing an offensive weapon.
He cannot be identified because of his age and was given a nine-month referral order by magistrates.
The court heard the 13-year-old had a hammer strapped to his leg, under his trousers, when he was stopped by police in the city centre on Tuesday night.
District Judge Khalid Qureshi said: "If you had been 15 you would be going straight through that door [to the cells]. No question about it.
"Nothing your mum would have said would have prevented that happening."
'Absolutely appalled'
Before sentence was passed, the teenager told the court: "To be honest, it's the worst, stupidest thing I have ever done."
As she was leaving court, his mother told journalists she did not know he had a hammer and thought he had been at a barbecue.
Assistant Chief Constable Garry Shewan said the 15-year-old boy's mother was "absolutely appalled, horrified and angry" when she saw the pictures of him trying to break into a shop.
"What she did is extremely admirable and I thank her for handing him into local officers as it must have been a hard thing to do," he said.
More than 175 people have been arrested over rioting in Salford and Manchester city centre.
Officers raided nine homes in Greater Manchester on Thursday following information about suspected looting.
They recovered goods including jeans, watches, camera equipment and other property. Three people were arrested.
Mr Shewan said police raided the properties following information from members of the public and he urged people to continue to give the force information.
Quiet overnight
Meanwhile, Greater Manchester Police have launched a "Shop a Looter" campaign which will see the faces of suspects displayed across Manchester.
Mobile advertising vans will be driving around with digital images of those suspected of looting during the disorder.
The images will also be projected on to the giant screens at Piccadilly Gardens and the Printworks.
Thirteen of those most recently charged are teenagers. A 14-year-old girl was charged with burglary and a 14-year-old boy was charged with going equipped for burglary.
A 20-year-old man has been charged with receiving stolen goods after police were called to a music shop in Leigh, following reports a man was trying to sell a guitar.
Police have also charged an 18-year-old man with criminal damage and recklessly endangering life after a fire at a Miss Selfridge store in Manchester during rioting on Tuesday night.
More than 70 people have already gone through the courts.
Greater Manchester Police said it had an increased presence on the streets overnight and there were no reports of any disorder.