Arson attack on homes being rebuilt after Salford gas blast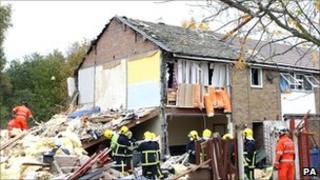 Two homes being rebuilt after a major gas explosion in Salford have been damaged in a suspected arson attack.
Fire crews were called to Merlin Road, Irlam, after reports of separate fires in two homes, not next door to each other, at 21:45 BST on Thursday.
Both houses were being renovated after a gas blast ripped through the street in November, causing widespread damage.
Greater Manchester Fire Service said they were treating the cause of the fires as deliberate.
Spokesman Paul Duggan said both fires started on the ground floor with one property suffering extensive damage while crews dealt with a separate blaze in the house next-door-but-one.
"If you can imagine three terraced houses, the central one is untouched and it's the two either side," he said.
"So, even by our own standards, that is somewhat suspicious."
'Gone downhill'
Vinny Jones, 31, who lives three doors away, raised the alarm after discovering the fire in the empty property.
"In the last 12 months since the blast, it just feels like the area has gone downhill," he said.
"They've still not got the street lights back on - I've been pushing and pushing and pushing.
"And with these houses boarded up, it's just seems to have got worse.
"I've lived here 11 years and it was absolutely great. Now all I want is for someone to come and buy my house so I can move away."
David Cummins of City West Housing Trust said it was "a mindless act".
He said: "The incident has centred around owner-occupied properties that were being refurbished following the gas explosion at Merlin Road last year."
He said the trust was supporting both the police and fire investigations into the arson attack, including making the site secure.
"The people of Irlam have show incredible resolve in spirit over the past months and it is sad that this incident has occurred."
Merlin Road was at the centre of a huge gas explosion on 2 November last year which destroyed three homes and damaged 20 others.
More than 200 households had to be evacuated after a cooker exploded.
Most people have since been able to return to their homes although a small number of houses are still being repaired.
A Health and Safety Executive (HSE) investigation is continuing into the explosion.