Teenager in court over Miss Selfridge shop fire in Manchester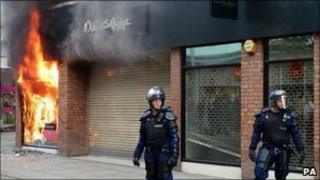 A man has appeared in court over a fire at a Miss Selfridge store in Manchester city centre.
Dane Williamson is charged with criminal damage, being reckless as to whether property was destroyed or damaged or life endangered.
The 18-year-old, of Broughton Road, Salford, did not enter a plea at Manchester City Magistrates' Court. His lawyer said it was mistaken identity.
Williamson was remanded in custody, to appear at crown court on 18 August.
The shop, in Market Street, was set on fire on Tuesday evening. More than £300,000 worth of damage was caused, the court heard.
Gareth Brandon, prosecuting, told the court: "This was an opportunistic offence in the context of the widespread disorder at the time.
"It was damage by fire, an offence of arson against Miss Selfridge in Market Street."
He added: "An item of clothing on display was set on fire, the windows having already been smashed."
The prosecutor said that, according to Miss Selfridge, the fire-damaged stock could now not be sold.
The damage costs relate only to the clothing and not the store itself.