Vandalised Wythenshawe Park centre reopens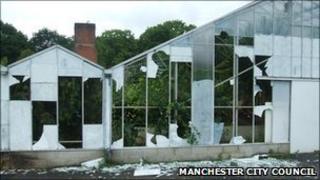 A horticultural centre in a south Manchester park where vandals beheaded birds and smashed windows earlier this year has reopened.
The vandals caused £10,000 damage to an aviary in the attack in Wythenshawe Park on 29 May.
Residents volunteered to help with repairs and the newly-restored centre was opened in a ceremony earlier.
Park manager Steve West, said: "We've had an overwhelming response. We can't thank everyone enough."
Frogs were speared, fish poisoned and 18 birds beheaded in the attack, before their carcasses were thrown around.
A pond was filled with fertiliser, killing the carp, and trees chopped down.
One local, Peter Bourne, donated his entire collection of fish which include Koi carp, a tench and a 25 year-old, four-foot sturgeon to the park to replace the lost fish.
The 68-year-old said: "When I saw what happened I knew immediately that it would be a good thing to donate my fish to the park, where they can be enjoyed by a lot of people and youngsters in particular."
Other donors included Willow Park Housing Trust and Parkway Green Housing Trust, who both gave £5,000 each.
Wythenshawe Park manager Steve West, said: "People of all ages and backgrounds from Wythenshawe have reacted with their trademark kindness - giving their complete support, time and money to help us.
"We can't thank everyone enough."
Six teenagers, aged between 13 and 18, were arrested after the incident and released on bail until September.